Successfully Visualize Protein Expression in Tissue with Expert Resources
4 Steps to Better Immunohistochemistry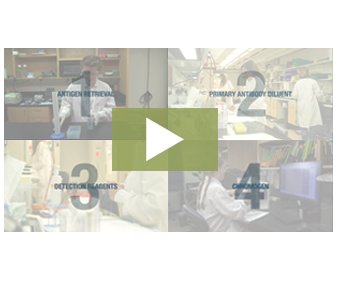 You are well aware that using highly specific, highly validated antibodies is key to successful IHC. Are you also aware of the importance of the buffers and other reagents to the outcome of your experiments? These short videos explore how companion reagents affect IHC at each step of the protocol and walks you through an example of antibody optimization for IHC.
Immunohistochemistry Tips and Techniques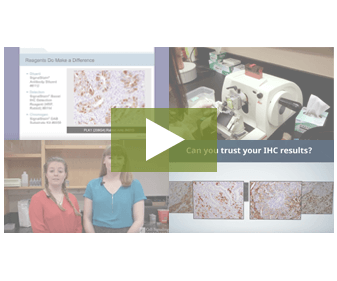 The IHC scientists at CST have years of experience developing, optimizing, and validating IHC protocols and reagents. In this video, they share the insights they have gained, such as how each step of the IHC protocol impacts your staining results, the techniques you can use to verify the specificity of your staining, and how choosing the right reagents for each step of your protocol influences your IHC results.
A Guide to Successful Immunohistochemistry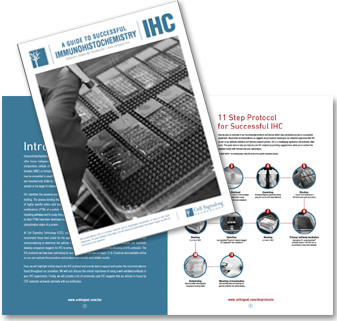 CST offers a comprehensive selection of antibodies, companion reagents, and controls for your IHC experiments. Our "Guide to Successful Immunohistochemistry" highlights the critical steps in IHC protocols and provides data that support and explain the recommendations we make for our antibodies, reagents, and other IHC products.
A Demonstration of CST's Rigorous Validation and Optimization Protocols: How to Combine Two Antibodies on One Tissue
Proper optimization is critical to ensure specific staining, and the combination of multiple antibodies requires they be held to the highest standard of specificity. CST meets this challenge by rigorously validating nearly 1000 antibodies for specific IHC protocols. This app note walks you through CST's comprehensive validation and optimization process using a dual staining protocol as an example.
Optimizing Immunohistochemistry
Dual Staining to Visualize and Understand Protein Co-expression During
The Power of Integrated Gene and Protein Expression Analyses: The correlation Between NanoString® and Gold-Standard IHC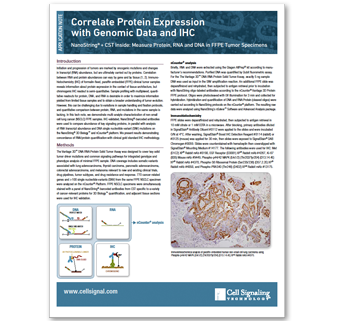 This application note walks you through the successful use of IHC-validated, NanoString®-barcoded antibodies in the multi­analyte characterization of non­small cell lung cancer in FFPE samples.
Time-saving Protocols for the Leica® BOND™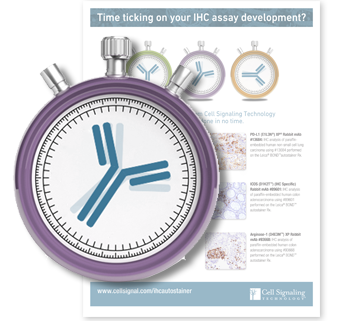 You will save time and eliminate guesswork by using CST's IHC protocols for Leica® BOND™. Each protocol includes step-by-step instructions and optimal dilutions to help you quickly set up and run your assay. And each protocol is associated with data you can review, so you know you can trust the results.
Carrier-free Antibodies for Imaging Mass Cytometry and Ion Beam Imaging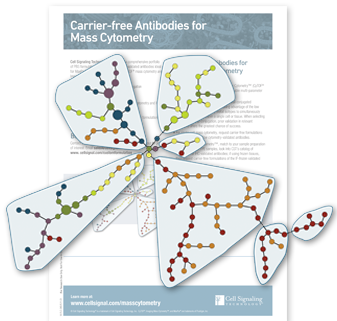 You can rely on CST for carrier-free, IHC-validated antibodies amenable to imaging mass cytometry and similar applications in which BSA or other carrier proteins interfere with heavy metal conjugation. Imaging cytometers, such as the Hyperion™ (from Fluidigm), are able to simultaneously image dozens of biomarkers in FFPE or frozen tissue samples, providing you with valuable information on tissue architecture, protein co-localization, and cellular interactions.
Looking for Multiplex Immunohistochemistry Resources?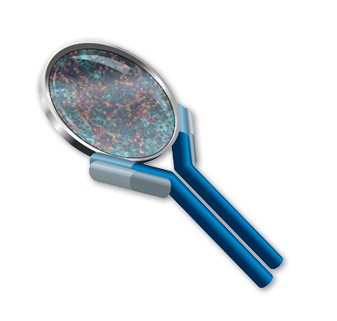 Check out our Multiplex IHC Resources page for in-depth information on the characterization of immune checkpoints in the tumor microenvironment, advantages of multiplexing, application notes and posters that present examples of multiplexing applications, and more.